Tour Preview
Facts in brief:
Exclusive tour with a SightRunning-Guide
Orientation on individual fitness
Information to the sights on the tour
Start and finish is your hotel or another meeting place of your choice
Route distance may be varied depending on running speed or at your request
By accident in the baroque garden in front of the Prussian Palace:
Photo shooting with lovely Rebecca from Munich and a gorgeous dress in a perfect setting. Obviously she could join Mike only a couple of meters. However it was a remarkable pleasure.
SightRunning in Berlin is exciting...
Residence of Prussian Kings Tour
SightRunning along the River Spree to the Charlottenburg Palace and its large gardens
The lap starts at Tiergarten, once the hunting ground of the Prussian Elector, then leads into the parklands along the River Spree to the summer residence of the Prussian Kings, the Charlottenburg Palace. The palace grounds were french designed baroque gardens which later were redesigned in informal English style. These gardens offer more then three km (two miles) of cultivated unpaved park path. It leads to the mausoleum of Queen Luise, the former tea house Belvedere, then to the palace theater which is an extension of one of the Orangeries and depending on the time of year splendid seasonal plant displays.
Enjoy the magnificent park.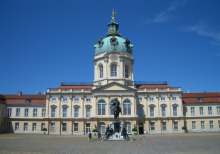 Charlottenburg Palace
Every day private tours upon prior agreement
Start 6 am to 10 pm, scheduled individually
Distance: 8 - 10 km (5 - 6 miles) / 60 - 75 min.
(can be individually adjusted)
Meeting points:
Character:
Riverside run to the Charlottenburg Palace and its large formal garden
The palace, its gardens and the buildings in the grounds are major visitor attractions
Historic tour to the largest palace in Berlin and the only royal residency in the city