Palm trees decorate the "Strandbar Mitte", a pleasure in leisure beach bar on the Berlin Cathedral tour
Frequently Asked Questions
How do we get together, where do we meet?
It's fairly simple. We have arranged a few easy reachable meeting points for you. Just use the bus or metro as described here...top
Can we start the tour at our hotel?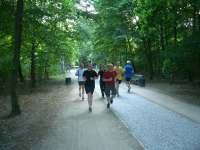 Yes we consider this the usual service for private tours. Many hotels are in close reach of the perfect SightRunning tour ground. If your hotel / accommodation is located in the city center districts (Charlottenburg, Tiergarten or Berlin-Mitte) we'll pick you up from the lobby. In other cases we could think about a taxi. We're happy to advise you. For details read more here...top
Are reservations required for the tour?
Yes. Since we offer several meeting points in town and a meeting time of your choice, we do need your reservation in advance. Please use our one step reservation form or give us a call. We'll do the logistics and provide you with the necessary information.top
How long do the tours last?
The distance of the tours vary from 6 – 10 kilometers (3,75 – 6,25 miles) per hour of running pleasure. Sometime it will take a little longer, because one or the other photo must be taken. But mostly we keep on the run and enjoy a nonstop sight run.top
How about sightseeing for more than one hour?
It's our pleasure to take you out for a longer sight running tour. Just let us know about your requirements in advance. Definitively, there's more to show and tell than just that offered in our standard tours.top
How many people will join the sightseeing run?
It's just you and your companions who you have signed up for this event. We like to pay as much attention as possible to you. This way, it's no problem to stop at any place you like to get more information or take photo snapshots.top
What about when I'm not in best shape the day we meet for the tour?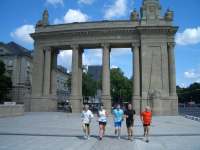 Nothing to worry about: we can always take a shortcut or do some walking for the last mile. We are flexible. We don't need to mention you're staying in Germany's capital which has one of Germany's best public transportation network. In any case, we'll escort you back to the meeting place or your accommodation.top
In case of rain - will you cancel our tour?
No, as we are runners, we accept the rain as a natural element and enjoy the sightseeing run anyway. Seriously, the weather in Berlin can change quickly. You may like to bring a light jacket with you. The weather forecast will give you some information in advance.top
Is there anything I have to take with me on the tour?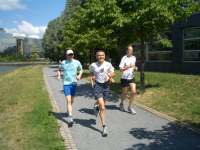 During summer time expect higher temperatures e. g. 25 C (77 F) or higher. It's always a good idea to carry a bottle of water with you. Do consider using sun lotion (all our SightRunning guides are nicely tanned). Don't forget your fancy sunglasses and a baseball cap in case of a sunny day. If you are expecting colder days wrap a light jacket around your hips. Keep some Euro in your pocket: you never know what you might want to buy (drink, souvenir) on the way. Our tour guides are equipped with a digital camera and will take photos of you while on the run if you request. So it's up to you if you wish to bring your own camera with you.top
Do we get back on time?
All our tours are designed for one hour. We don't mind if the tour last 75 minutes because of one reason or another. If you have a tight schedule, we'll make certain that you return on time. Please inform us of such requirements with your reservation or tell us at the tour start.top
Will we stop on the tour?
No, our tours are nonstop pleasure sight running. You will see a lot of sights: therefore we have to keep on moving. A photo snapshot is one of few exceptions we do make.top
What are the opening times?
The tours run seven days a week, rain or shine. We offer our tours the whole year.top
How can I work for Mike's SightRunning Berlin?
You love to run, you love Berlin and you like the idea to show our beautiful city to Berlin visitors? Then you might want to join Mike's SightRunning team. Just send us your vita including a nice picture to . top