Why Sightseeing on the run - why SightRunning?
Many people workout on a regular basis to keep in shape and free their minds from the stresses of daily work. Running and jogging belong to the most favored sports. It takes little effort and fits almost every occasion. No wonder business travelers and vacationers like to pack their running shoes. In a metropolis like Berlin, there's no better way to get your bearings and learn about a new place. But often there's one thing missing, or at least one thing that can better optimize your stay in the city, and that's the company of a running guide, someone who knows the best routes and the places of interest along the way. We offer that service at Mike's SightRunning.
Why should you go for Mike's SightRunning?
Mike's SightRunning offers outstanding and personalized sightseeing to business travelers and tourists who are enthusiastic about running and interested in Berlin. Experienced and reliable running guides can offer attractive and interesting routes through downtown Berlin. Along the way the participants listen to the stories of their guide and learn interesting facts about the sightseeing highlights. In addition we offer a pickup service to our runners either at their hotel or at an agreed-upon meeting point. To provide the best benefit we recommend guided tours for 1 to 4 runners.
Do you have questions or special preferences?
We are open-minded about every question and suggestion and happy to adapt our sight running tours to your individual preferences. Also if you plan a meeting or incentive event in the German capital, we can definitely be of assistance to you.
About the founder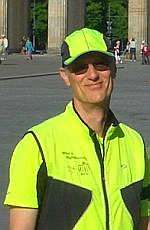 Michael Horstmann founded Mike's SightRunning and launched this website in April 2008. Since 2004 he's been doing guided tours for Berlin runners and joggers along some of the most historic and captivating routes in the city center. Constantly fascinated by the ever-changing landscape of the city, Mike sought to combine his interest in Berlin with his interest in distance-running, and from there it was only a small step towards the idea of establishing a business that offered to Berlin visitors guided running tours in Berlin.
Mike worked as an IT Specialist for 20 years and during that time he was always developing his love for endurance sports. At first it was swimming (including working as an active life-guard), then long-distance cycling (crossing the USA on a 5000 mile bike tour after his studies abroad) and then his attention turned to long-distance running. In the last 20 years, Mike has participated in marathons on three continents, his biggest challenge so far being the Two Oceans Ultra Marathon in South Africa. On some of these runs, Las Vegas, Stockholm and Vienna for example, he took on the character of the sightseeing marathon runner, and this aspect of running (in-addition to its competitive aspect) contributed to the idea for Mike's SightRunning. He has finished "his home marathon", the Berlin Marathon, 12 times.