SightRunning guided tours:

Tours...
normally for 1- 4 runners
Riverside preferred
Route along the River Spree
Road traffic...
mostly off-track routes
Photo shooting
always time for...
SightRunning highlights...
neither by bus nor by bicycle reachable
Sights...
with explanations and background information
SightRunning Tours in Berlin
---
Tours overview
Expect tours with 6 - 10 km (4 - 6 miles) length and about one hour SightRunning pleasure for 1 to 4 runners.
We'll be glad to customize the start time, meeting point, route distance and tour route to your needs and wishes.
Also benefit from our hotel pickup and meeting points.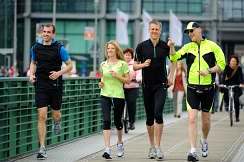 Photo © Andreas Schwarz
Riverside, public parks, bridges...
We are specialized in sightseeing city running tours in the center of Berlin. Local guides take you around to see points of interest while giving you a customized workout. Long parts of the route follow the River Spree, lead through public parks and through areas with most impressive sights.
The road traffic is avoided during the most part of the sightseeing run. The smart design of the tours includes plenty of Spree bridges and underbridges, helps to avoid traffic and traffic lights and ensures a smooth run with continuous SightRunning enjoyment.
Guided Tours with Workout Effect
Our offer is especially for Berlin visitors, who plan to tour the German capital for a short time and wish to keep their personal fitness but also experience Berlin and its sights.
The convenience of combining a sightseeing tour with a regular workout is attractive for many ambitious runners who are on vacation or traveling on business.
Information as Entertainment
Enjoy the freedom of not worrying about how to plan a sight running tour on your own or losing time, running into traffic or getting lost in an unknown place.
Join a guided tour, relax and listen to the explanations, background information and stories about the landmarks on the sightseeing run. Take unforgettable impressions, knowledge and tales home.