Berlin Cathedral Tour - The Choice for First Time Visitors
SightRunning along the River Spree to the Berlin Cathedral in the Old Town of Berlin
The tour orientation follows the course of the River Spree between the Brandenburg Gate and Berlin's historic core. Enjoy the sights which are lined up like pearls on a string along the riverside. Except of the German Chancellery and Reichstag building the attractions you'll see like Brandenburg Gate, Museum Island and Unter den Linden among others are located in the former East Berlin. More tour details
On this city tour you'll visit the central Berlin Mitte district with some of the most important touristic sites of Berlin, like the Museum Island - UNESCO world heritage, the Berlin Cathedral and surrounding old town attractions, Friedrichstraße - Berlin's major culture and shopping street, "Palace of Tears" - border crossing station during the Berlin Wall and last but not least "Unter den Linden" - the boulevard runs east–west from the site of the former royal palace to Pariser Platz and Brandenburg Gate. Along this famous avenue the sight-run will take you past many of Berlin's grand buildings like the Berlin State Opera, Bebelplatz - known as the site of the infamous Nazi book burning ceremony and the Humboldt University of Berlin. Depending on the meeting point, the tour may vary a little.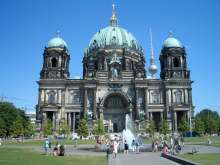 Berlin Cathedral
Every day private tours upon prior agreement
Start 6 am to 10 pm, scheduled individually
Distance: 6 - 12 km (4 - 8 miles) / 60 - 90 min.
(can be individually adjusted)
Meeting points:
Character:
run with the pulse of the city - in the old town and former East Berlin
good half of the tour is riverside run
great mix of historic and modern attractions in quick sequence
explore hidden places out of reach for bus and bike
Tour Inclusions:
Tailor-made exclusive tour with a private SightRunning-Guide
Start and finish is your hotel or another meeting place of your choice if it's located in or nearby the tour area - otherwise we recommend central, easy to reach meeting points
Non-stop information to the sights on the tour while running or during short stops
Route distance may be varied depending on individual fitness and at your request
Plenty of opportunities for creating your own memories (don't forget your camera)
Tour Exclusions:
Public transportation (if used), refreshments
Tour highlights - may be varied depending on the meeting point:
1 hour - The Brandenburg Gate | Grand Boulevard Unter den Linden | Major culture and shopping street Friedrichstrasse | A glance at Checkpoint Charlie | The to the Nazi Book Burning | Humboldt University | Berlin State Opera | The Royal Berlin - Frederick the Great | The Unesco World Heritage site of the Museum Island | Berlin City Palace | Berlin Cathedral | Theater, dance and beer garden along the river Spree | The Palace of Tears | The Reichstag and the modern government quarter | German Chancellery | The Berlin Wall
1,5 hours - additional highlights - American and British Embassy | The Memorial to the Murdered Jews of Europe | The site of Hitler's Bunker | Potsdamer Platz and the modern Berlin | Boulevard of the Stars | Sony Center | Remaining parts of the Berlin Wall | Original Watchtower of the former border area | Memorial to homosexuals persecuted under Nazism and more!