Festival Preview


Photo © Judith Fürst
Light-SightRunning at the FESTIVAL of LIGHTS 2016, Oct. 7. - 16.
Exclusive tour for sightseers in a sportive manner - night-run in Berlin's historic center
During the 12th Berlin Festival of Lights all run-enthusiastic Berliner and Berlin visitors are welcome to explore the illuminated German capital in running pace.
We offer guided light-seeing running tours to introduce the spectacularly illuminated cultural arena of Berlin's historic center to you on 3 days per festival week. Pulse watches and competition spirits are left at home. Light-SightRunning is solely seen as an event for fun combined with a sportive note.
Tour Description
Start and finishing line is set at the Brandenburg Gate. The route takes you alongside a light bond of illuminated buildings. Reichstag, Museum Island, Berlin Cathedral, Gendarmenmarkt and the splendor boulevard Unter den Linden are, amongst other, destinations of this tour.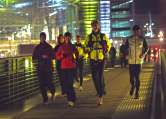 Photo © Martin Kuras
Light-SightRunning Schedule
1. week:
Fri. • Sat. • Sun. - 7./ 8./ 9. October 2016
2. week:
Fri. • Sat. • Sun. - 14./ 15./ 16./ October 2016
Short information
Start and finish:
Brandenburg Gate at the "Starbucks Coffee" 
Details...
Tour starts at:
7.15 pm
Distance:
approx. 10 km (including lightseeing stops)
Duration:
approx. 1,5 hours
Group size:
up to 20 runners
Locker:
Central Station first basement / parking deck, S-Bahnhof Friedrichstraße,
more ...
Prices per person effective with registration
  •  € 8 until 23. September 2016
  •  € 10 from 24. September 2016
Payment in cash at the tour meet-up
Please register early - Light-SightRunning is popular and places are taken quickly